Breaking: F1 Driver Escapes Death As racing Car Splits Into two,Bursts Into Flames
Breaking: F1 Driver Escapes Death As racing Car Splits Into two,Bursts Into Flames
Roman Grosjean has had a lucky escape as his Formula One car splits into two at high-speed,then bursts into flames.
CityNews Nigeria reports that Formula 1 racing driver Romain Grosjean has survived a high-speed crash at the Bahrain Grand Prix, emerging from his car as it was engulfed in flames after smashing through a barrier.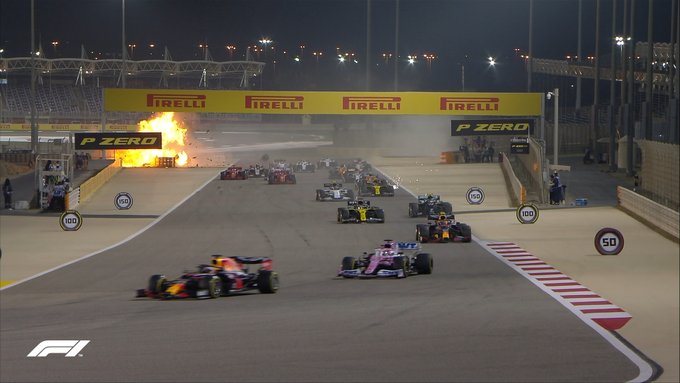 The 34-year-old hopped out of his car – which was ripped in two – managing to escape while the car was on fire, and is being attended to by medical staff.
The accident halted the Formula 1 Bahrain Grand Prix on the opening lap, before the Frenchman limped away to an ambulance.
The impact of Grosjean's crash was measured at 53G according to an FIA spokesperson.
Read Why Sports Minister, Sunday Dare's Afraid To Tell Nigerians He Needs N81M To Cut Abuja Stadium Grass
Details later…