Aung San Suu Kyi handed four-year jail term in military 'courtroom circus'
Aung San Suu Kyi handed four-year jail term in military 'courtroom circus'
Aung San Suu Kyi has been handed a four-year jail sentence by a military court in Myanmar over various offences, including illegal possession of walkie-talkies, the latest judgment in a series of cases that could lead to her spending the rest of her life in detention.
She has been held by the military since 1 February, when it ousted her democratically elected government, plunging the country into chaos. The 76-year-old has since been targeted with a slew of charges that her lawyer has previously described as absurd.
On Monday, Aung San Suu Kyi was found guilty on charges related to illegally importing and owning walkie-talkies, and of breaking coronavirus rules, according to Associated Press.
There has been scarce information about the proceedings in any of her trials, which cannot be accessed by media or observers. Her lawyer has also been prevented from speaking to journalists.
The sentence on Monday comes on top of a previous verdict handed down in December, when Aung San Suu Kyi was found guilty of incitement and a separate charge of breaking Covid restrictions. She was sentenced to four years imprisonment, though this was cut to two years and junta chief Min Aung Hlaing said she could serve her term under house arrest in the capital, Naypyidaw. It is not known where she is being held.
The sentencing in December provoked defiance among the public, who protested by banging pots and pans – traditionally an act believed to drive away bad spirits, and also used to show opposition to the military. The verdict was also condemned by rights groups as well as the US, UN and the EU.
Phil Robertson, the deputy Asia director for Human Rights Watch, described the case on Monday as a "courtroom circus of secret proceedings on bogus charges", designed to remove her as a political threat. Her National League for Democracy party won a sweeping victory in elections in November 2020 but the military refused to accept the result.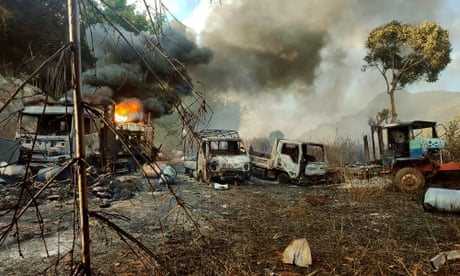 The coup provoked mass street protests across the country, which were met with deadly violence by the military as well as thousands of arrests. According to the Assistance Association for Political Prisoners, 1,447 people have been killed by the military since February and 11,421 have been arrested.
The junta was violating the human rights of everyone, from Aung San Suu Kyi and other elected officials of the previous government to activists on the street, Robertson said.
"Once again, Aung San Suu Kyi has become a symbol of what is happening to her country and returned to the role of political hostage of military hell-bent on controlling power by using intimidation and violence. Fortunately for her and the future of Myanmar, the Myanmar people's movement has grown well beyond just the leadership of one woman, and one political party."
The junta continues to face widespread opposition, including peaceful protest movements and an armed resistance. The military has struggled to control the country: on top of escalating conflict, public services including education and health have collapsed and the economy is in crisis.
Aung San Suu Kyi, who previously spent a total of 15 years in detention campaigning against the military, is also facing further charges, including allegations of election fraud, corruption and violating the Official Secrets Act. If found guilty in all cases, she could be held by the junta for the rest of her life.