Latest Sports News Today…Live Updates, EPL, Uefa, Chelsea, Man U, Manchester City,Arsenal
Latest Sports News Today…Live Updates, EPL, Uefa, Chelsea, Man U, Manchester City,Arsenal
Latest Sports News Today…Lives Updates, EPL, Uefa, Chelsea, Man U, Manchester City, Arsenal and Other Top Sporting Clubs Is Brought To You By CityNews Nigeria.
Latest Sports News Today from CityNews Nigeria will also update you with transfers news of EPL, Uefa, Chelsea, Man U, Manchester City, Arsenal and Other Top Sporting Clubs…
Latest Sports News Today brings you live streaming of some important sporting events from around the world…Follow CityNews Nigeria..
EPL: Chelsea players pick Lukaku's replacement at Stamford Bridge
Chelsea's players have urged the club's hierarchy to sign Everton forward, Richarlison.
Arsenal are also interested in signing the Brazil international, but the players want the Blues to move ahead of the Gunners.
Thomas Tuchel's side have not signed any player this summer and have let the likes of Antonio Rudiger and Andreas Christensen depart.
Top striker, Romelu Lukaku is also on the verge of returning to Inter on loan.
Richarlison, meanwhile, is keen on leaving Goodison Park this summer and has attracted interest from several clubs in the Premier League.
Everton are demanding £50 million for the player, while both Tottenham and Arsenal have made approaches in recent weeks.
The Sun reports that senior members of Chelsea's squad want the Everton star at Stamford Bridge as Lukaku's replacement.
The report claims that Chelsea's players view Richarlison's 'aggression and tenacity' as traits of a player they would like to see added to their squad.
The Brazilian scored 10 goals in the Premier League last season.
Transfer: Man City's Gabriel Jesus finally picks club to join this summer
Manchester City forward Gabriel Jesus has finally chosen his preferred destination between Arsenal and Tottenham.
The two north London clubs have been battling for the Brazilian's signature but the 25-year-old has now picked Arsenal over Tottenham.
Arsenal boss, Mikel Arteta has made the Brazil international one of his top targets for the summer and has held extensive talks with his agent and City about a possible deal.
Apart from Arsenal and Tottenham, Chelsea have also shown interest in the 25-year-old.
There were reports in England last week that Antonio Conte's Tottenham were working in the background to beat Arsenal to the signing of Jesus.
But Daily Star has now reported that Jesus has picked Arsenal over their north London rivals, as the player would get more starts due to the lack of forwards in Mikel Arteta's squad.
Jesus has just one year remaining on his contract with City, but is keen to leave in order to get more playing time ahead of Brazil's World Cup campaign later this year.
Arsenal also hold a key advantage over Tottenham as Jesus has already worked with Arteta at City.
Serie A: We'll not welcome you – Inter Milan supporters tell Lukaku
Inter Milan supporters have warned Romelu Lukaku they won't be welcoming him like any other important player arriving at the San Siro.
The supporters said they have not forgotten the Belgian's 'betrayal' ahead of his move from Chelsea.
Lukaku looks all set for a return to Inter Milan after the Italian giants and Chelsea agreed a €8 million (£6.8m) loan deal.
Lukaku angered Inter supporters last summer when he pushed to leave in his £97.5m move to Stamford Bridge.
The Belgium international, who left Inter just last summer, is returning to the club and Inter fans have told the striker that he will need to earn their trust.
"Curva Nord supports Inter Milan and will not stage any protest against the player (despite his behaviour last summer)," Inter's ultras said in a statement.
"That being said, nobody shall go and welcome him with scarves and banners representing the Curva or its groups. He will need to earn everything that, in case, will be done for him in the future with humility and sweat on the pitch.
"He was supported [and treated] like a king, now he's just a player like many others. It shall also be clear to everyone that we will never cheer against Lukaku if he will wear the Inter jersey again.
"We encourage all Interisti [Inter supporters] not to fall in the other trap, to run and drool after him. Clearly there is an instinctive and emotional element, but to pretend that nothing has happened would only accelerate that process aimed at making us all dumb and slavish consumers.
"We took note of Lukaku's betrayal and we were extremely disappointed.
"With time we can even forgive such things to a footballer, but the facts won't change. Now, Romelu, let's kick and run."
Transfer: Dembele takes final decision after Xavi asked him to decide on Barcelona
Barcelona forward, Ousmane Dembele has told the club's boss, Xavi of his decision to remain at the club.
But the Spanish giants will not be increasing their contract offer, as the Frenchman's current deal runs out at the end of the month.
This means that he will become a free agent and his representatives have been holding talks with clubs across Europe such as Chelsea and Paris Saint-Germain.
Chelsea boss, Thomas Tuchel is said to be very keen on having the player with him again after their time together at Borussia Dortmund.
But, according to Spanish radio station, Cadena SER, Dembele prefers to remain at Barcelona and has let his coach know his decision.
The 25-year-old is happy and settled at Camp Nou, having been a key player in the second half of last season following Xavi's appointment, and ideally wants to continue in Catalunya.
This is despite Xavi and Barcelona hierarchy telling the player to leave the Nou Camp if he is not comfortable with his current offer.
The offer by Barcelona is considerably less than the offers put forward by Chelsea and PSG.
Arsenal plan improved bid for Leeds' Raphinha as Spurs and Chelsea loom
Arsenal have had an offer rejected by Leeds for Raphinha but intend to push again to sign the Brazil international amid competition from two other Premier League clubs and Barcelona.
Tottenham have told Leeds they plan to bid – that could arrive this week – and Chelsea's co-owner Todd Boehly, the interim sporting director, has explored the situation. Barcelona agreed personal terms with the winger months ago but Leeds want far more than the £35m-£40m the Catalan club have in mind.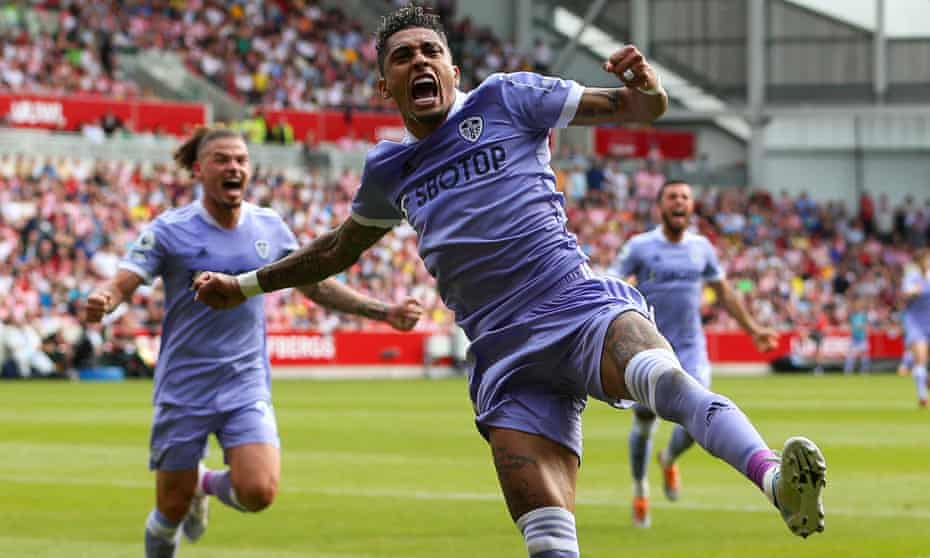 It is likely to require at least £65m to convince them to sell. Arsenal have been interested in the 25‑year‑old since March and have been in negotiations with Leeds, who bought Raphinha from Rennes for about £17m in October 2020 on a contract to 2024. He scored 11 goals and set up three in the Premier League last season.
Arsenal have strengthened their attacking options by buying Fábio Vieira from Porto for an initial £30m but also want to bring in Raphinha and his international teammate Gabriel Jesus, who is poised to leave Manchester City.
Spurs and Paris Saint-Germain are among others interested in Jesus. But Arsenal are leading the race and are in advanced talks with the player's agents. If outstanding details are resolved they will look to settle on a fee with City.
'One of Liverpool's greatest': Mané hailed by Klopp after Bayern move
Sadio Mané was described by Jürgen Klopp as "one of Liverpool's greatest-ever players" after his transfer to Bayern Munich was confirmed. The forward, who said he was in no doubt he was making the right move, has joined for a guaranteed £27.5m and the fee could rise to £35.1m with add-ons.
"It's a big moment – there is no point in anyone trying to pretend otherwise," Klopp said. "One of Liverpool's greatest-ever players is leaving and we must acknowledge how significant this is."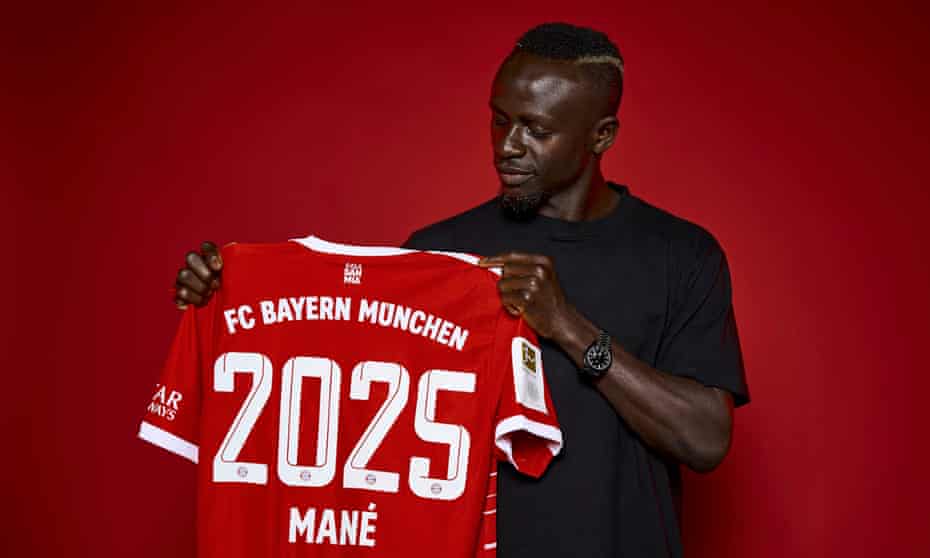 Mané won a Champions League, Premier League, FA Cup, Carabao Cup, Super Cup and Club World Cup during his six seasons at Anfield and Darwin Núñez has been bought from Benfica in a deal worth up to £85m to help replace him.
"He leaves with our gratitude and our love," Liverpool's manager said. "He leaves with his status among the greats guaranteed. And yes, he leaves in a moment where he is one of the best players in world football. But we must not dwell on what we now lose, instead celebrate what we were privileged to have. The goals he scored, the trophies he won; a legend, for sure, but also a modern-day Liverpool icon."
Mané, who had one year left on his deal at Liverpool, told his new club's website: "I'm very happy to finally be with FC Bayern in Munich. We had a lot of talks and I felt the great interest of this big club from the start so there was no doubt in my mind right from the start. This is the right time for this challenge. I want to achieve a lot with this club, also internationally."
The Senegal forward arrives at Bayern with their leading scorer, Robert Lewandowski, determined to leave for Barcelona and attracting interest from other clubs including Chelsea and Paris Saint-Germain. Bayern's board member for sport, Hasan Salihamidzic, reiterated on Wednesday that the Pole had a contract to 2023 and said he was expected for pre-season training on 12 July.
Salihamidzic underlined why Bayern moved for Mané. "A top international star is coming to FC Bayern, who has left his mark on world football," he said. "We're proud to have brought him to Munich. Sadio made it clear from the first minute in our talks that he now wanted to play for FC Bayern. Everyone knows his outstanding technical qualities as well as his incredible mentality."
Salihamidzic said the transfer "shows that our club and he have big aims". Bayern won a 10th consecutive Bundesliga title in April but failed for a second consecutive season to get beyond the Champions League quarter-finals.
Mané, who has a contract to 2025, told Liverpool's website: "Obviously it is strange – really, really strange – to no longer be a Liverpool player. But of course I had a great time, an unbelievable time. We won a lot. My life is always [about a] challenge and when it came I said to the club that I want to leave."