Zelenskiy delivers New Year hope of Ukraine victory as Russia launches fresh strikes
Fresh blasts were heard in Kyiv and around Ukraine in the first hours of 2023, minutes after President Volodymyr Zelenskiy delivered a New Year address in which he wished for one thing: victory.
Kyiv's city military administration said 23 Russian-launched "air objects" had been destroyed, while mayor Vitali Klitschko said preliminary reports suggested there were no wounded or casualties, only a damaged car in the city centre.
As air raid sirens wailed across the country and air defences were brought into action, some people in Kyiv shouted from their balconies, "Glory to Ukraine! Glory to heroes!" Reuters witnesses reported. In Kyiv and other major Ukrainian cities, an 11pm curfew had already precluded large New Year parties, with many marking the moment inside shelters.
The attacks came minutes after Zelenskiy delivered his first wartime New Year address, with no end in sight to the conflict. He said: "2022 struck our hearts. We cried out all the tears. All the prayers were yelled. 311 days. We have something to say about every minute. But most words are superfluous. No explanation needed. Silence is needed to hear. Pauses are needed to realise.
"We don't know for sure what new 2023 will bring us. I want to wish all of us one thing – victory. And that's the main thing.
"Let this year be the year of return. The return of our people. Soldiers – to their families. Prisoners – to their homes. Immigrants – to their Ukraine. The return of our lands. And the temporarily occupied will become forever free.
"Return to normal life. To happy moments without curfew. To earthly joys without air alerts. The return of what has been stolen from us. The childhood of our children, the peaceful old age of our parents.
"May the New Year bring it all. We're ready to fight for it. That's why each of us is here. I'm here, we're here, you're here – everyone's here. We're all Ukraine."
The New Year attacks followed a barrage of more than 20 cruise missiles fired at targets across on Ukraine on Saturday in what Ukraine's human rights ombudsman, Dmytro Lubinets, called "terror on New Year's Eve."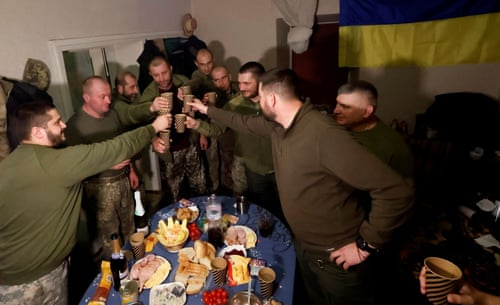 Saturday's attack – Moscow's second major missile attack in three days – badly damaged a hotel south of Kyiv's centre and a residential building in another district. A Japanese journalist was among the wounded and taken to hospital, Klitschko said.
Zelenskiy responded to Saturday's attacks – and Vladimir Putin's New Year address in which he blamed the west for provoking the war – with a message to the Russian people, delivered in Russian. "Your leader wants to show he has the troops behind him, he is ahead. But he's hiding. He hides behind the troops, missiles, his residences, palaces. He hides behind you, burns your country, your future," Zelenskiy said. "No one will forgive for terror. No one in the world will forgive you. Ukraine won't forgive."
Separately, Vyacheslav Gladkov, the governor of the southern Russian region of Belgorod, bordering with Ukraine, said that as a result of overnight shelling of the outskirts of Shebekino town, there was damage to houses, but no casualties.
Ukraine has never publicly claimed responsibility for any attacks inside Russia but has called them "karma" for Russia's invasion.
With Reuters