Tinubu: Masari Reportedly Approves N500m For Mobilization As Buhari Leads Katsina APC Rally
Tinubu: Masari Reportedly Approves N500m For Mobilization As Buhari Leads Katsina APC Rally
Katsina State Governor, Aminu Bello Masari, has allegedly approved the withdrawal of N499,650,000 from the state's joint account purposely for the mobilisation of supporters to receive President Muhammadu Buhari in the state during the campaign rally of the All Progressives Congress (APC) presidential candidate, Bola Tinubu, in the state.
CityNews Nigeria understands that Buhari was expected to lead APC chieftains and party supporters in Katsina between Friday and Saturday, 26 and 27 January 2023.
Ahead of the event, a letter allegedly addressed to the Katsina State Commissioner for Local Government and Chieftaincy Affairs and signed by the Permanent Secretary in charge of the government house confirmed Governor Masari's consent for the withdrawal of the huge some from the Local Government Joint Account.
"I am directed to refer to your letter No. S/MLGCA/GEN/259/C/IV of 17″ January 2023 and to convey the approval of His Excellency, the Governor for the release of N14,695,588.00 to each of the 34 LGCs totalling N499,650,000.00 (Four Hundred and Ninety-Nine Million, Six Hundred and Fifty Thousand Naira Only) from the available balance of the 34 LGCs in the Local Government Joint Account to enable the LGCs to cater for adequate and effective mobilisation of citizens to receive President during an official visit to Katsina State from 26 to 27 January 2023," the letter signed by the Katsina Government House Permanent Secretary dated January 18, 2023, reads.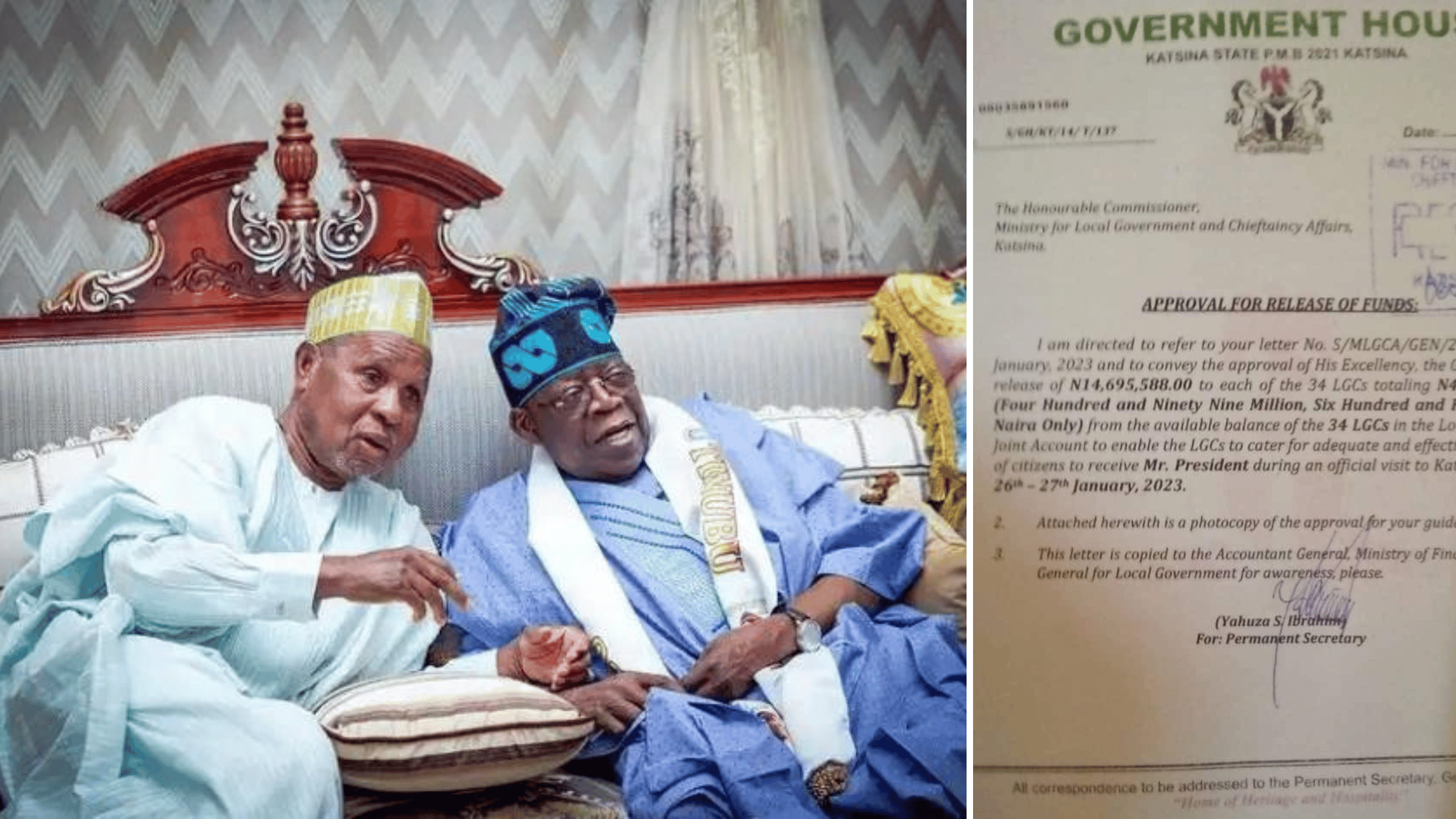 "Attached herewith is a photocopy of the approval for your guidance. This letter is copied to the Accountant General, Ministry of Finance and Auditor General for Local Government for awareness, please," the letter added.
Recall that the APC presidential campaign council had earlier announced that President Buhari will lead party supporters in the campaign for Tinubu across 10 states of the federation.
The states include Adamawa, Yobe, Sokoto, Kwara, Ogun, Cross Rivers, Nasarawa, Katsina and Imo, as well as the grand finale slated for Lagos State, CityNews reports.