Breaking! LIVE UPDATES: Russia-Ukraine War: US President, Joe Biden Visits Kyiv(VIDEO)
Breaking! LIVE UPDATES: Russia-Ukraine War: US President, Joe Biden Visits Kyiv…
US President Joe Biden has made a surprise visit to Kyiv – his first to Ukraine since Russia invaded almost a year ago.
CityNews Nigeria reports that this comes as the anniversary of Russia's invasion approaches on 24 February.
Biden said the United States would stand with Ukraine "for as long as it takes" and praised their "heroic" fighting.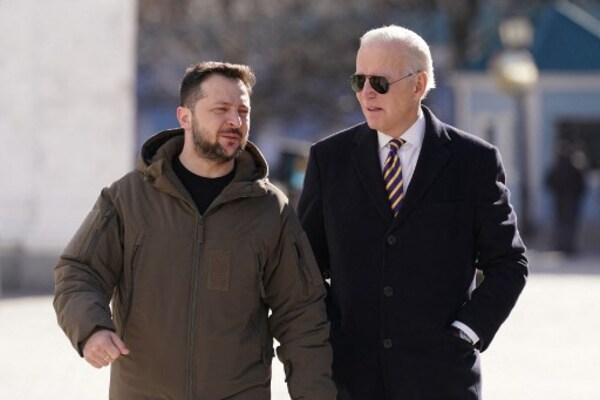 CityNews Nigeria reports that he is due to begin a three-day visit to Poland later today.
Meanwhile, EU foreign ministers meeting in Brussels will discuss how to make sure Ukrainian forces have enough ammunition.
And Russian forces have sustained "very high losses" in their assault on the eastern town of Vuhledar, according to UK intelligence.
Stay with CityNews Nigeria for live updates…
Biden visit 'unprecedented in modern times', says US national security adviser
The US national security adviser, Jake Sullivan, said Biden's visit to Kyiv was "unprecedented in modern times" on the grounds that it was the first time a US president had visited "the capital of the country at war where the United States military does not control the critical infrastructure".
That, White House officials are saying, is the distinction between this trip and previous presidential visits to Afghanistan and Iraq. In those countries, there was a massive US military presence, but there is none in Ukraine, and a minimal diplomatic presence too.
"That required a security operational logistical effort from professionals across the US government to take what was an inherently risky undertaking and make it a manageable level of risk," Sullivan said.
But of course, there was still risk and is still risk in an endeavour like this, and President Biden felt that it was important to make this trip because of the critical juncture that we find ourselves at as we approach the one year anniversary of Russia's full scale invasion of Ukraine.
White House officials said that Biden finally gave the go-ahead for the trip on Friday after receiving a final security briefing.
Russia says relations with Moldova 'very tense'
The Kremlin has described Russia's relations with Moldova as "very tense" and accused its leaders of pursuing an "anti-Russian" agenda.
Moldova's parliament last week approved the formation of a new pro-western government led by the new prime minister, Dorin Recean, after the previous administration resigned en masse amid a series of crises in the wake of Russia's invasion of Ukraine.
The new administration has vowed to pursue a pro-European path and also called for the demilitarisation of Transnistria, a breakaway region in the east of Moldova where 1,500 Russian soldiers are stationed region.
During his regular briefing with reporters, Kremlin spokesperson Dmitry Peskov said Russia was acting "responsibly" with regard to peacekeeping forces it has stationed in the breakaway region and warned Moldova against inflaming the situation further.
He said:
Our relations with Moldova are already very tense. The leadership always focuses on everything anti-Russian, they are slipping into anti-Russian hysteria.
The Moldovan president, Maia Sandu, has accused Russia of trying to destabilise Moldova and has accused Moscow of plotting to topple the country's leadership, stop it joining the EU and use it in the war against Ukraine.
Sandu's comments came after Moldova's intelligence service reported that it had identified "subversive activities", after Ukraine's president, Volodymyr Zelenskiy, said Kyiv had intercepted a "plan for the destruction of Moldova" by Russian intelligence.
Russia poses a clear military threat in Sweden's immediate area but its forces are largely tied up in the war in Ukraine, the Swedish Military Intelligence and Security Service (Must) said on Monday.
"The European security order as we know it has ceased to exist … and with that the risks for Swedish security have also increased," Reuters reports Lena Hallin, head of Must, told a news conference.
Hallin also said she expected Russia to strengthen its military capability in Sweden's immediate area when it was possible, in response to Sweden and Finland applying for Nato membership.
She said that Must judged that Russia wants to avoid current tensions escalating into an armed conflict with Nato.
"But there is considerable uncertainty, mainly relating to the Russian leaderships' willingness to take high risks," she said, adding that the high level of tension raised risks that accident or misjudgment could lead to conflict.