BREAKING: Aisha Buhari: CBN Rubbishes 'Fake News' From First Lady On Old Naira Notes
The Central Bank of Nigeria (CBN) has distanced itself from a fake statement ordering the distribution of old 1000, 500 naira notes.
CityNews Nigeria reports that social media has been awashed with reports that the apex bank announced plans to recirculate old 1000 and 500 naira notes. The fake report claimed that President Muhammadu Buhari had directed the CBN to carryout the recirculation after a closed-door meeting.
The CBN's statement is coming shortly after Nigeria's First Lady, Aisha Buhari on Tuesday morning shared the controversial press statement on her Instagram page.
The first lady had shared the alleged CBN statement which read; "Due to the current and unpleasant situation happening in Nigeria, In line with Mr. president.
"After having a closed meeting with him on the 20th of February, 2023, Central Bank Of Nigeria (CBN) has been directed to ONLY reissue and recirculate the old N200, N500 and N1000 banknotes and this is expected to circulate as legal tender for 70 days up to May 1, 2023. Members of the public should therefore continue to spend the old notes."
"Media practitioners are advised to PLEASE spread out this helpful information to the public."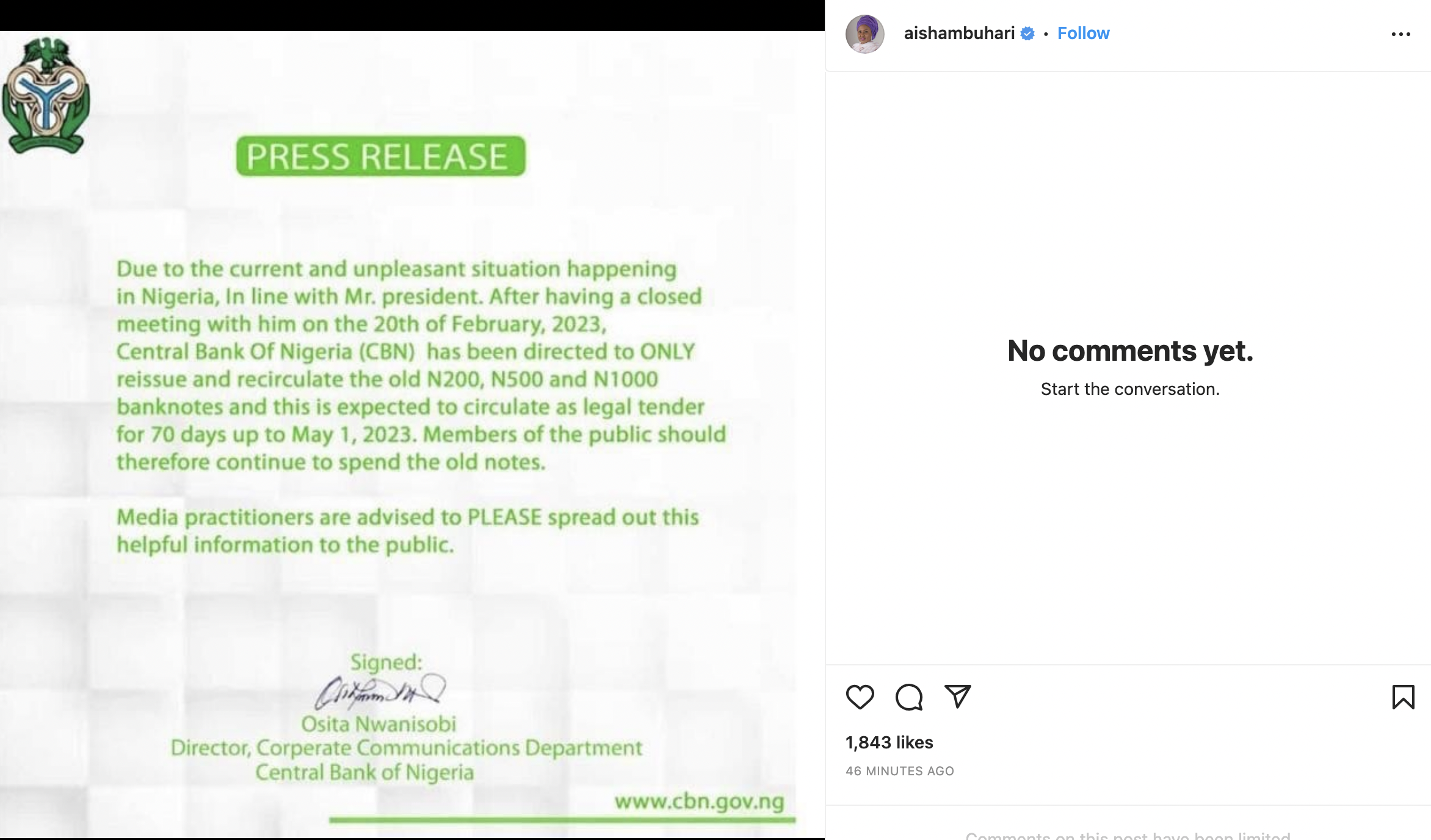 However, in a swift response, the CBN via its official social media handle debunked the screenshot shared by the First lady.
"The attention of the Central Bank of Nigeria has been drawn to some fake and unauthorized messages quoting the CBN as having authorized the Deposit Money Banks to collect the old N500 and N1,000 Banknotes. For the avoidance of doubt, and in line with Mr. President's broadcast of February 16, 2023, the CBN has been directed to ONLY reissue and recirculate the old N200 banknotes and this is expected to circulate as legal tender for 60 days up to April 10, 2023."
"Members of the public should therefore disregard any message and/or information not formally released by the Central Bank of Nigeria on this subject."
"Media practitioners are advised to PLEASE verify any information from the correct sources before publication."
Details lsater…