F1:#Bahrain Grand Prix… Live Updates As #Verstappen Starts From Pole
F1: Bahrain Grand Prix Race Live Updates
'The Bahrain GP is a circuit where the personal strategy of the driver becomes important. Last year, Leclerc took victory thanks to the continuous DRS game he used with Verstappen. The Monegasque, cold as usual, did not use all the power of his F1-75 on the main straight, to allow the Dutchman to overtake him in turn 1, get stuck and return the overtaking in the next DRS zone . The drivers will take this precedent into account when overtaking…
No one expected Aston Martin to be in the podium battle. In Free Practice, the British team showed that the hopes placed on the AMR23 have been fulfilled. For them there is a lot of season left…
Fernando Alonso : "This is just the base, very important things are coming, evolutions in the next circuits… Our strong point is the long runs" .
Mike Krack : " I think we can be very fast in the race , we have done all the homework, we have the right tires and we can do it"
At Ferrari they are running as the top contender to overthrow Red Bull. The SF-23 proved to be a great car on one lap, now it must show its performance in the race, where degradation is a concern.
Carlos Sainz: "Except the Red Bulls, everything is going to be very nice… Aston Martin is going to be very good and Mercedes is always there. We're going to have a good time".
Charles Leclerc: "The race is our weak point, although I think we are closer to the Red Bulls than I thought…"
Vasseur: "We know what we've done in the long run and we're starting with a new game, it's an advantage."
We review the best statements after yesterday's qualifying. We start with Red Bull , the champions know that he has a luxury single-seater in his hands and everyone places him as the great favourite. This was commented by Verstappen and Pérez.
Verstappen: " I'm looking forward to seeing what we can do tomorrow. Fernando is also at the top, hopefully I can fight with him tomorrow, because Formula 1 is better with him at the top."
Pérez: "I have a good base in the car, we have focused on tomorrow and I think it will bring us good results tomorrow" .
Marc Gené: "Our advantage is the new tyre, we are confident that Aston Martin 's race pace will not be as fast as in free practice, but we know that they are a very, very fearsome rival , Red Bull won't even comment on it."
"There are different levels of saving tyres, we degrade a lot, so neither we nor the rivals are going to go all the way… Our car doesn't allow us to go all the way from the start."
Marc Gené: "With Red Bull there are no chances , there is speed, but no race pace. Our fight is with Mercedes and Aston Martin… The AMR23 is a bit faster, so a podium would be nice."
" This morning we found an anomaly in the battery and control unit of Leclerc's car, so we sent the first one to Maranello to study it."
The drivers who will start from the top 10 positions: Red Bull, Ferrari, Aston Martin and Mercedes occupy the top eight positions.
1º M. Verstappen (B) Red Bull 1'29″708
2nd S. Perez (B) Red Bull 1'29″846 +00″138
3º C. Leclerc (B) Ferrari 1'30″000 +00″292
4th C. Sainz (B) Ferrari 1'30″154 +00″446
5º F. Alonso (B) Aston Martin 1'30″336 +00″628
6th G. Russell (B) Mercedes 1'30″340 +00″632
7th L. Hamilton (B) Mercedes 1'30″384 +00″676
8th L. Stroll (B) Aston Martin 1'31″836 +02″128
9º E. Ocon (B) Alpine 1'31″984 +02″276
10th N. Hulkenberg (B) Haas 55'55″555 +54'25″847
Welcome to the live stream of the 2023 Bahrain GP race! First race of the season and we are going to review yesterday's classification a bit to see where we start from. Let's start!
Good afternoon! The day has come, all the past is not worth much, because we have 57 laps ahead to decide who is the first champion of the season. For the first time in the history of F1 , we have two Spanish drivers in two competitive teams and with the ability to fight to get on the podium. Victory, on paper, is far away because Red Bull is ahead of everyone, not to mention Max Verstappen 's lap to take pole position yesterday. The Dutchman flew over the Sakhir circuit and set the record for all sectors of the circuit. His partner, Checo Pérez , will accompany him in the first starting row.
The second row will be occupied by the two Ferraris . Charles Leclerc left a soft tire unused in order to have it in the race, Sainz , however, chose to use it in a second attempt that was not very fruitful for the Spaniard and ended up relegating him to fourth position on the grid. The 55 only has new hard tires for the race, so it's going to have to suffer as the race progresses. All this without counting the possible degradation of the SF-23 , which from the paddock claim to be the worst of the four teams in the Top-8.
And behind them, from 5th to 8th, Aston Martin and Mercedes. .. How the British team hid during all free practice and preseason. He is a regular and we always end up crashing, even so, Fernando Alonso will start from 5th position and promises strong emotions, because from the paddock they confirm that the AMR23 degrades his tires very, very little and his race pace is closer to Red Bull than to Ferrari or Mercedes.
We are going to experience all this and much more at MARCA.com. This start to the season a few years ago was unthinkable and today, at the Sakhir circuit, two Spaniards will start behind the podium positions with the intention of hearing the Spanish anthem again after Carlos Sainz 's victory at Silverstone. Sit back, relax and get ready to experience the first race of the season because at around six o'clock we will surely have at least one Spaniard on the podium. We tell you everything at MARCA, let's start!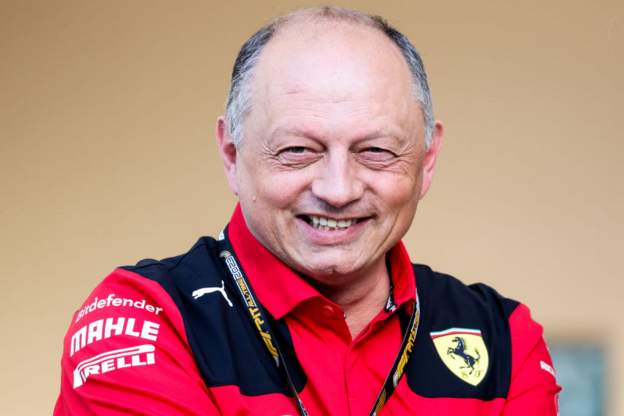 [New Ferrari team principal Fred Vasseur] is a no-nonsense kind of a guy. He wants performance and is not afraid to tell you how it is and I like it. I think that is how you have got to work in Formula 1. You have got to get to the root of the issues, which Ferrari had plenty of last season.
It is going to be difficult for him in the first race, he has not had time to put his stamp on anything just yet, but I think the drivers respect him immediately.
They start third and fourth [on the grid]. If they can finish there I think that will be a good return for them at the moment, although, of course, they will be hoping for a little bit more.
Charles Leclerc, particularly, is pretty quick. He has raced for Vasseur before in the Junior Formula. They have a good bond. A good start would just help the team and help Fred to settle down.
Race underway as Verstappen leads….