Azerbaijan Grand Prix: Sergio Perez overtakes Charles Leclerc to win sprint race
Red Bull's Sergio Perez overtook Ferrari's Charles Leclerc to win the sprint at the Azerbaijan Grand Prix.
The Mexican, who qualified second to Leclerc in the sprint shootout earlier on Saturday, passed the Ferrari shortly after an early safety-car period.
Championship leader Max Verstappen finished third, after his car suffered damage in an early collision with George Russell's Mercedes.
Russell took fourth, from Ferrari's Carlos Sainz.
Aston Martin's Fernando Alonso was sixth. Lewis Hamilton was seventh, losing out when Alonso made an opportunistic overtake as he took advantage of the seven-time champion failing to pass Sainz into the first corner at the restart.
Leclerc, who has taken two pole positions in two days in Baku and will also start the grand prix at the front on Sunday, feared he would struggle to hold off at least one of the Red Bulls over a race – and so it proved.
This is the first 'sprint' weekend of the year and it runs to a new format to those events in the last two years. The Friday qualifying session decided the grid for the grand prix on Sunday.
Saturday is a whole separate day, starting with a qualifying session – known as the 'sprint shoot-out' – that sets the grid for this shorter 'sprint' race later on.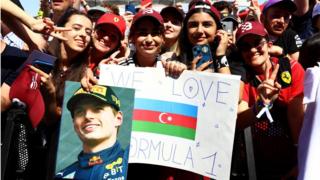 Formula 1 fans have been excited by the new racing format in Baku
How did it all unfold?
The race was neutralised early in lap two after Yuki Tsunoda clouted the wall at Turn 15, tearing his tyre off and damaging his rear suspension.
Cars ran for five laps under the virtual safety car and then full safety car while the debris from Tsunoda's accident was cleared.
When it restarted, Perez stalked Leclerc for two laps before easing past as soon as the DRS overtaking aid was enabled after two racing laps.
Leclerc stuck with him for some time, before beginning to lose his tyres with a couple of laps to go and finishing 4.5 seconds behind.
Perez's win closed his deficit in the championship to Verstappen to 13 points.
Leclerc tried to stay within DRS range of Perez as long as he could, fearing an attack from Verstappen, whose car was damaged while fighting with Russell in a terrific side-by-side battle through the first three corners.
The two collided when Russell stayed on the inside at Turn Two. The Mercedes was legitimately on the inside and Russell tried to leave Verstappen room on the outside, but a small lock-up meant he slid into the Red Bull and damaged Verstappen's sidepod.
Verstappen was furious with Russell afterwards, going over to remonstrate with the Mercedes driver, calling him a "dickhead" after the Briton refused to accept he had been at fault and walked away.
Verstappen said in his television interview: "I don't understand why you need to take so much risk in lap one, understeer into my sidepod and create a big hole."
The damage would have caused significant drag on the Red Bull and almost certainly explains why Verstappen was not able to catch and pass Leclerc.
Russell was comfortably able to hold off Sainz, who in turn was concerned about Alonso but they raced without changing positions to the flag.