Lakers trounce Grizzlies to reach NBA's last eight while Kings force Game 7
Anthony Davis had 16 points and 14 rebounds while blocking five shots in a spectacular defensive performance, D'Angelo Russell scored a career playoff-high 31 points and the Los Angeles Lakers completed their first-round upset of the Memphis Grizzlies with a 125-85 victory in Game 6 on Friday night.
LeBron James scored 22 points on 9-of-13 shooting for the seventh-seeded Lakers, who emphatically clinched a playoff series in their own arena for the first time since 2012.
The Lakers won all three of their home games in the series, and the final victory was a scary demonstration of their capabilities when James and Davis are both healthy. Davis' imposing defensive presence largely shut down Memphis' offense in Game 6, while Russell's five three-pointers highlighted an impressive offensive effort from a late-blooming team with championship aspirations.
The Lakers took a 20-point lead in the first half and went up by 36 in the third quarter before coasting to victory before superfan Jack Nicholson and a roaring crowd. James and Davis even got to sit out the entire fourth quarter, preserving their legs for the second round.
The Lakers had to win a play-in game just to reach a playoff series, although this star-studded team is no ordinary seventh seed. Los Angeles open their next series on the road Tuesday against the winner of Sunday's Game 7 between Sacramento and defending champion Golden State.
Ja Morant scored 10 points on 3-of-16 shooting for the Grizzlies, who won 107 games and two Southwest Division titles in the past two seasons, but just one playoff series.
Morant's injured right hand appeared to hamper his shot, and he seemed unwilling to drive the paint with his usual fearlessness while Davis loomed in the middle. Morant's teammates couldn't pick him up: Desmond Bane, who guaranteed a Game 7, had 15 points on 5-of-16 shooting, while Jaren Jackson Jr had 14 on 3-of-12 shooting.
Dillon Brooks, the Memphis agitator who dismissed James as "old" after Game 2 and then got ejected from Game 3 for striking James in the groin, finished a dismal series performance with 10 points in Game 6 while Lakers fans booed his every move.
The Lakers hadn't won a playoff series outside the Florida bubble in 11 years, enduring a dismal decade-plus for a 17-time champion franchise with a fan base used to excellence.
James and Davis have won a title together, but they had done little to remember in front of their home fans before the past two months, when their supporting cast markedly improved at the trade deadline with several additions headlined by Russell. The dynamic duo improved to 5-0 in playoff series in which they both appeared in every game together.
The Grizzlies had the second-worst road record among the NBA's 16 playoff teams in the regular season, and they lost their first four road games against the Lakers this season. They fell into a 3-1 hole in this series with back-to-back losses in Los Angeles, but staved off elimination by winning in Memphis on Wednesday.
Lakers fans sensed the enormity of the moment and turned out in force, highlighted by the return of the 86-year-old Nicholson to his courtside seats after a nearly two-year absence. Their team delivered, jumping to a 20-point lead in the first half and stretching it to 36 in the third quarter.
The Grizzlies played without three-point threat Luke Kennard due to a sore shoulder, further hurting the depth on a roster already missing injured regulars Steven Adams and Brandon Clarke.
Sacramento Kings 118-99 Golden State Warriors
Malik Monk scored 28 points, De'Aaron Fox added 26 points and 11 assists, and the Sacramento Kings staved off elimination in their first-round playoff series by beating Stephen Curry and the Golden State Warriors 118-99 on Friday night in Game 6.
Now, a winner-takes-all Game 7 is back in Sacramento on Sunday afternoon.
Rookie Keegan Murray scored 15 points with four three-pointers and grabbed 12 rebounds for his first playoff double-double, and the No 3-seeded Kings withstood every scoring surge the defending champions made on their home court and shined in nearly every facet of this one with their special season on the line.
Kevin Huerter, struggling with his shot all series – 20 of 52 coming into the game – hit a three with 6:23 to go and another with 4:58 left as Sacramento gave the state capital one more chance to Light the Beam.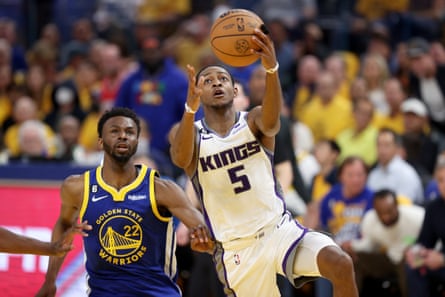 Curry scored 29, Klay Thompson 22 and Kevon Looney pulled down 13 more rebounds to give him an NBA-leading 85 this postseason. He was coming off a career-high 22 rebounds in a Game 5 win at Golden 1 Center.
But the Kings, in the postseason for the first time since 2006, answered almost every big play by Golden State in the third quarter and capitalized on regular miscues. They outhustled the Warriors to the boards.
The Kings led 90-80 heading into the final 12 minutes. Curry hit an early three, only for Trey Lyles to connect moments later. When Curry drove for a layup the next possession, Monk made one of his own.
Curry's three with 9:28 left got Golden State within 99-89 before Fox hit.
Fox's first points came on a jumper with 2:18 left in the first on his first shot. He then scored again the next time down still dealing with a broken index finger on his shooting hand. He shot 10 for 18.
Sacramento snapped a six-game losing streak on the Warriors' home floor dating to a win on 25 February 2020.
Lyles wound up with 12 points and 10 rebounds as others picked up the slack with Domantas Sabonis in foul trouble. The big man had seven points and 11 rebounds before fouling out with 5:17 left.
Fox had been frustrated with his poor fourth quarter in Wednesday's 123-116 defeat in which he went 0 for 6 from the field and was scoreless – the most shots he had ever taken in a final period without scoring.
Draymond Green came off the bench for a third straight game and received a rousing standing ovation when checking in for the first time at the 6:26 mark of the opening quarter. He had 10 assists.
Both teams took a while to warm up, with Sacramento starting 6 for 23 and Golden State 6 of 19.