Age shall not weary him, but it might provide some good punchlines.
Joe Biden, the oldest president in American history, faced his biggest political liability with a smile on Saturday as he addressed a gathering of Washington's political and media elites.
The 80-year-old, who this week announced a bid for re-election in 2024, flipped between a pugnacious defence of press freedom and crisp one-liners at the expense of political opponents as he addressed the White House Correspondents' Association annual dinner.
As opinion polls show that a majority of Americans have little appetite for a second Biden term, with many citing his age as a defining concern, he chose not to hide from his most obvious vulnerability but run towards it.
"I believe in the first amendment, not just because my good friend Jimmy Madison wrote it," he said, referring to one of America's founding fathers, who died in 1836.
He went on: "Look, I get that age is a completely reasonable issue. It's in everybody's mind and by everyone, I mean the New York Times. Headline: 'Biden's advanced age is a big issue. Trump's, however, is not.'"
The president had a dig at Don Lemon, a CNN host who was fired this week after a series of missteps including remarks that Republican presidential candidate Nikki Haley, 51, "isn't in her prime" because "a woman is considered to be in her prime in her 20s and 30s and maybe 40s".
Biden earned a big laugh when he said on Saturday: "They say I'm ancient; I say I'm wise. They say I'm over the hill; Don Lemon would say, 'That's a man in his prime'."
There was also an indirect pitch that, despite concerns over his readiness for a gruelling election campaign, Biden is spoiling for the fight with Republican opponents.
He said of Marjorie Taylor Greene, a far-right congresswoman from Georgia: "I want everybody to have fun tonight but please be safe. If you find yourself disoriented or confused, it's either you're drunk or Marjorie Taylor Greene."
Referring to Florida governor and potential presidential candidate Ron DeSantis's protracted battle with Disney, he quipped: "I had a lot of Ron DeSantis jokes ready but Mickey Mouse beat the hell out of me and got there first."
And Biden said of House of Representatives speaker Kevin McCarthy: "Look, you all keep reporting my approval rating as 42%. I think you don't know this. Kevin McCarthy called me and asked me, 'Joe, what the hell is your secret?' I'm not even kidding about that."
Biden also had fun poking fun at the media, especially Fox Corp's recent settlement of a defamation lawsuit by Dominion Voting Systems for $787.5m in a case that centred on Fox News's false claims that the 2020 presidential election had been manipulated in favour of Biden.
"It's great the cable news networks are here tonight. MSNBC owned by NBC Universal. Fox News owned by Dominion Voting Systems." That line earned laughter and applause.
"Last year your favourite Fox News reporters were able to attend because they were fully vaccinated and boosted. This year, with that $787m settlement, they're here because they couldn't say no to a free meal."
In a jab at former president Donald Trump, Biden quipped that comedian Roy Wood Jr, who also was a featured speaker at the dinner, had offered him $10 to keep his speech short. "That's a switch – a president being offered hush money."
Earlier this month Trump was charged with 34 felony counts in a case involving an alleged $130,000 hush payment to an adult film star during his 2016 presidential campaign.
Biden assured Wood: "I'm going to be fine with your jokes but" – he put on his trademark sunglasses – "I'm not sure about Dark Brandon." This was a nod to an internet meme that began as a rightwing attack but has been co-opted by Biden's supporters.
Wood, a regular on Comedy Central's The Daily Show, naturally could not resist making Biden's age a target. He said: "We should be inspired by the events in France. They rioted when the retirement age went up two years to 64. Meanwhile in America, we have an 80-year-old man, begging us for four more years."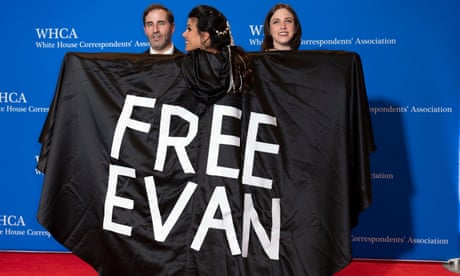 For all the comedy, Biden also used his speech to issue forceful denunciations of attacks on press freedom and on misinformation that threatens to undermine democracy.
The president and first lady Jill Biden met privately with the parents of Wall Street Journal reporter Evan Gershkovich upon arriving at the dinner. Gershkovich has been imprisoned in Russia since March after being charged with spying, despite strong denials from his employer and the US government.
Also among the 2,600 guests in a cavernous hotel ballroom was Debra Tice, the mother of Austin Tice, who has not been heard from since disappearing at a checkpoint in Syria in 2012.
Biden said: "Journalism is not a crime. Evan and Austin should be released immediately along with every other American detained abroad. I promise you, I am working like hell to get them home."
The president acknowledged Brittney Griner, a basketball player who was detained in Russia for nearly 10 months last year before her release in a prisoner swap. Griner attended with her wife, Cherelle, as guests of CBS News. "This time last year we were praying for you, Brittney," Biden said.
In another preview of a 2024 campaign theme, Biden condemned news outlets that use "lies told for profit and power" to stir up hatred. "Lies told for profit and power. Lies of conspiracy and malice repeated over and over again designed to generate a cycle of anger and hate and even violence."
The Washington black-tie dinner returned last year after being sidelined by the pandemic in 2020 and 2021. Biden was the first president in six years to accept the invitation after Trump shunned the event while in office.
This year the gala drew politicians including Vice-President Kamala Harris and celebrities such as actor Liev Schreiber and singer John Legend and his wife, Chrissy Teigen, a model and television personality.