Miami Grand Prix: Max Verstappen's statement win underlines superiority over Sergio Perez
Miami Grand Prix: Max Verstappen's statement win underlines superiority over Sergio Perez
Max Verstappen arrived at the Miami Grand Prix determined to make amends for his defeat in Azerbaijan the previous weekend, and he left having made an emphatic statement of his superiority over Red Bull team-mate Sergio Perez.
The Mexican, by contrast, started the weekend in Florida expressing his confidence that he could keep up his unexpected title challenge against Verstappen for the entire season. He ended the race chastened, unable to explain how his team-mate had shown such crushing superiority.
This was a statement victory by Verstappen, who won from ninth place on the grid with almost disdainful ease.
It was not so much that the Dutchman was able to carve through the field with ease after a difficult qualifying session; it was what he did to Perez in the process.
It took Verstappen just 14 laps to ease his way into second place. Perez needed to use those early laps to extend an advantage, but he was just 3.3 seconds ahead when Verstappen passed Fernando Alonso's Aston Martin.
Already, Perez said, he "knew the race was looking difficult". And when, after his pit stop, he was unable to close on Verstappen despite having tyres that were 20 laps fresher, he knew it was over.
Remarkably, by the time Verstappen made his pit stop with 12 laps to go, he was extending his advantage over Perez. He came out just a second behind and was past and gone within not much more than a lap.
It was, as Red Bull team principal Christian Horner put it, "an absolutely outstanding performance".
It was quite a statement from Verstappen, who had been flat beaten by Perez around the streets of Baku the previous weekend.
"He came out of Baku disappointed," Horner said. "Checo was the faster guy there, particularly on Sunday, and Max came here really wanting to reassert himself."
Verstappen was stunning in Miami from the off, consistently 0.5secs or so a lap faster than Perez. But things went off the rails briefly in qualifying on Saturday.
Verstappen made an error on his first lap in the final session and aborted it. And when Charles Leclerc crashed his Ferrari having gone out early on the final runs, that was the session over. Ninth place it would be for Verstappen.
It felt at the time as though he had handed Perez a present. As it turned out, it simply provided Verstappen a chance to demonstrate his superiority.
Perez was struggling with the medium tyres in the opening stint, saying they felt "quite fragile". But he was barely any faster than Alonso's second placed Aston Martin, which is a considerably slower car, even if driven by an outstanding driver doing another stellar race.
Either Perez was over-cautious, or he was too hard on his tyres. Whichever it was, he failed to build the advantage he needed. Then, having seen Verstappen behind him before his pit stop, he sealed his own fate by pushing too hard early in his second stint and cooking his tyres.
"Max deserves the victory," he said. "He was the strongest car out there. I have to understand what went wrong. It's really simple. When you don't have the race pace, it is really hard to win the race."
Verstappen's win had it all. He was way faster than Perez. He looked after his tyres far better, despite his pace advantage coming from the high-speed section through Turns Two to Six. And he drove more intelligently.
It was a champion's drive, one that suggested Perez's title challenge will turn out to be the illusion most in F1 expect it always was.
The only negative point of the day was that Verstappen was booed both during the razzmatazz, showbiz build-up to the race, when the drivers were introduced to the crowd one by one by LL Cool J, and on the podium. Verstappen shrugged it off.
"If I would be driving in the back nobody would be doing anything in terms of reaction," he said. "It is normal when you are winning and they don't like who is winning. It is fine for me. I get to stand on the top. I take the trophy home and they go back to their houses and they can have a nice evening."
Wolff warns of no quick fix at Mercedes despite upgrades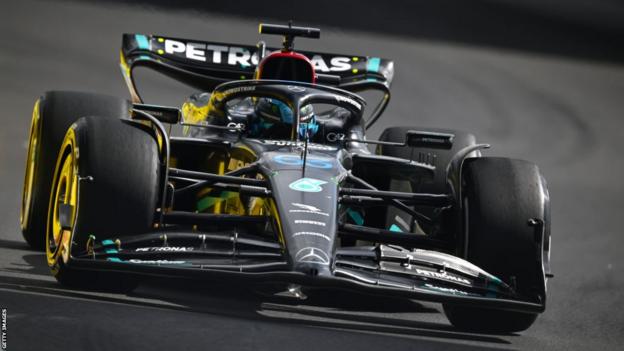 Red Bull's performance underlined their superiority this season. It was their fourth one-two in five races, and the only reason they don't have a full house is that Perez had a difficult Saturday in Australia last month and started the race last.
Alonso, who is having an outstanding season in the most improved team of the year, has his hopes that he might win a race this year but accepts that for it to happen Red Bull will have to hit trouble.
"Our main focus is looking behind and keeping Mercedes and Ferrari behind in the constructors' championship," he said. "We have to accept Red Bull is ahead and doing a better job."
He is a deserved third in the drivers' championship and his Aston Martin team second in the constructors'. But they are only six points ahead of Mercedes, whose drivers George Russell and Lewis Hamilton finished fourth and sixth respectively.
Mercedes hope the next race in Imola in two weeks' time will be the start of what Hamilton calls a "new path" as they introduce a major upgrade which marks a change of design direction for their car.
The hope is that this will eventually lead to them catching Red Bull. But team principal Toto Wolff is urging caution.
"We need to manage our own expectations," Wolff said, "I have never in my 15 years in F1 seen a silver bullet being introduced where you suddenly unlock 0.5 seconds of performance. So I very much doubt this is going to happen here.
"What I am looking for is for us to take certain variables off the table where we believe we could have introduced something we don't understand in the car. And to go more to, let's say, a stable platform. We shall see where the baseline is and what we can do from there.
"We are chasing downforce and we are trying to do the best possible job in terms of the mechanical platform. We are introducing new bodywork and a new floor and new front suspension and that's pretty large operation, large surgery, and so it's going to be a lot of learning. In the virtual world it is good lap time."
Troubled times at Alpine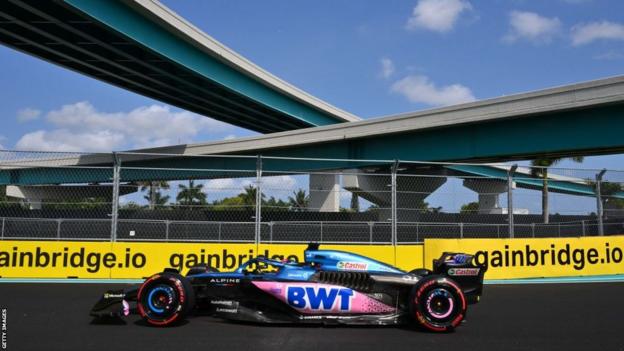 Elsewhere, the impression is that changes are looming at senior management level at Alpine.
The team started the season, having finished fourth last year, aiming to close on the top three. But they have had a torrid time, lie sixth overall and have scored only 14 points, even with a double points finish for Pierre Gasly and Esteban Ocon in Miami, their eighth and ninth places equalling their best result of the year.
Before the race, chief executive officer Laurent Rossi gave an interview to French TV station Canal Plus in Miami that underlined his unhappiness.
"This year we have started with a performance deficit, on one hand, and also an execution deficit," he said. "That's a lot – and it shows. We are in a position that is not at all worthy of the resources invested, and we are far – very far – from the final objective of the year.
"What I see is, there's certainly a lack of performance, a lack of rigour in the execution, but also potentially a frame of mind that is not at the level of what had been accomplished by this same team in the past."
Rossi used the word "dilettantism" to describe the first race of the season, where Ocon received three separate penalties in one grand prix as a result of a series of errors by team and driver. He said: "The last race in Baku looked an awful lot like the one in Bahrain.
"The right to make mistakes, it is a basic principle. Mistakes are what we learn from. However, when you make the same mistakes twice, it means you haven't learned and that you aren't taking responsibility. And that is not acceptable."
The remarks emerged on Sunday morning and somewhat blind-sided the team. What Rossi intended to achieve by them is unclear, but they are the sort of comments that tend to come before someone loses their job, or at least presage major changes.
These are nervous times at Alpine.