Spanish police make arrests over 'hate crimes' targeting Vinícius Júnior
Spanish police have arrested three people in connection with racist slurs directed at Real Madrid's Brazilian forward Vinícius Júnior on Sunday and detained a further four in connection with a mannequin of the footballer found hanging under a bridge in January.
Police said three people had been arrested in Valencia in connection with the abuse during Sunday's match at the eastern city's Mestalla stadium. An investigation was opened into the chants on Monday, on the same day the head of Spain's football federation admitted the country had a problem with racism.
In a separate operation, four people were detained in relation to the discovery in January of an effigy wearing Vinícius's No 20 shirt that had been hung from a bridge in front of the training ground of Real Madrid, the player's club team, along with a banner that read "Madrid hates Real".
Both incidents are being investigated as possible hate crimes.
Officials, players and former players in Brazil and Spain showed solidarity with 22-year-old Vinícius, who on Sunday considered leaving the field after facing racist taunts from fans during Real Madrid's 1-0 loss at Valencia in the Spanish league.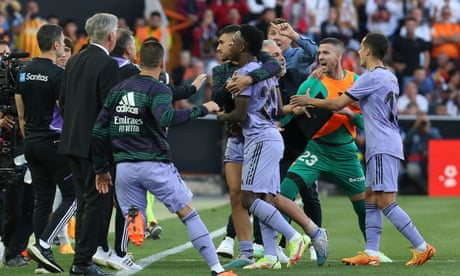 "We have a problem of behaviour, of education, of racism," Luis Rubiales of the Royal Spanish Football Federation said on Monday. "And as long as there is one fan or one group of fans making insults based on someone's sexual orientation or skin colour or belief, then we have a serious problem."
Valencia said it had banned one of its fans for life and was looking to identify others. "The club has analysed all the available footage, working alongside the authorities as rapidly as possible to clarify what happened," it said in a statement.
Real Madrid said it strongly condemned the incident, which it believed to be a hate crime. "These events represent a direct attack on the social and democratic model of coexistence of our state based on the rule of law," the club said.
Speaking after Sunday's game, Real Madrid's Italian manager, Carlo Ancelotti, said the racist abuse – in which Vinícius was repeatedly called a "monkey" – highlighted how "something bad is happening in this league".
The Spanish league has made nine similar formal complaints for racist abuse against Vinícius over the past two seasons, most of which have been shelved. Fans have been fined and banned from stadiums, but so far only a Mallorca supporter may end up going on trial for allegedly racially insulting the Brazilian during a game.
The first trial of a fan accused of racial abuse in Spanish professional football is expected to happen at some point this year in a case involving the Athletic Bilbao forward Iñaki Williams, who was insulted by an Espanyol supporter during a match in 2020.