Europa League final: Jose Mourinho is Roma's Messiah, but is this farewell for the 'Special One'?
Roma and the city of Rome are in a complete trance before the Europa League final in Budapest. This is due to the almost mystical relationship Jose Mourinho has built with both players and fans.
Rome lives in a condition of mass hysteria since the 'Special One' landed in the Italian capital in July 2020.
That was a coup de theatre of the finest art – no-one expected such a high calibre manager and such a character to return to Italy after his successes and controversial moments at previous club Inter Milan, least of all depressed Roma fans.
Much has happened since then. Fourteen years after their last Coppa Italia title, Roma's captain Lorenzo Pellegrini lifted the Europa Conference League trophy to the Tirana sky last May, a first ever continental success for the club.
Two months later, in front of an ecstatic crowd, superstar Paulo Dybala was unveiled during an emotional night. Mourinho has been the driving catalyst behind the commendable turnaround.
'Either you are with Mourinho or against'
What impresses most is the continuous process through which Mourinho moulds a true team. His players follow him blindly and are ready to throw themselves into the fire for him when needed.
"Jose is the king, we are his queen," Dybala recently said.
Mourinho is unique at gaining such buy-in from players. Tottenham Hotspur, who he teased during Uefa's open media day, are the only former club he couldn't really get on side.
At any small referee decision, a conceited group of Roma players scream for explanation.
If the fourth official intervenes, or doesn't, the whole dugout stand up and gesticulate wildly. Mourinho recently admitted to wearing a recorder, just to defend himself from the fourth official.
This is deliberately exaggerated and upsets many people. Albeit aged 60, the Portuguese remains histrionic and polarising: either you are with him or against.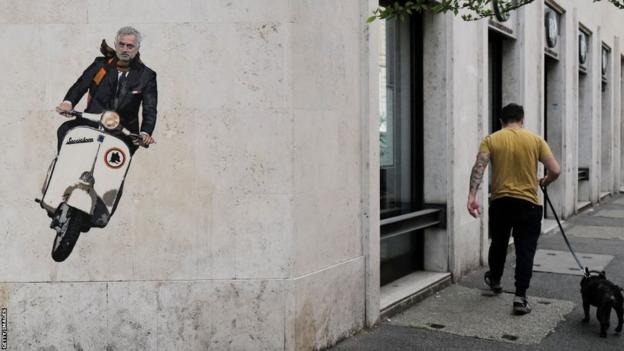 The city was waiting for a Messiah, Mourinho understood that and he's been feeding it with dreams and emotions for the past two years.
People love his continuous critics against referees, the system and his own club, too weak and incapable of putting together a competitive team. He and his players won the Conference League and built a deep empathy with the fans.
Roma supporters are extremely passionate by nature, but the last 15 inconsistent years, with the decline and departure of Francesco Totti and Daniele De Rossi, left a mark.
Mourinho recreated a community and gave it an identity.
Not many football characters can boast a mural in Italy, yet he has one in the Testaccio area, in which he rides his Vespa, a present of the Friedkin family he jealously guards at the Trigoria training centre.
Dybala adds spark to Mourinho's 'solid' Roma
The Stadio Olimpico is sold out for every game and will be also on Wednesday, when fans gather to watch the final against Sevilla (20:00 BST) on large screens.
Despite Sevilla's qualities and their great run under boss Jose Luis Mendilibar, Roma have all it takes to win the title, especially if they can count on Dybala.
The Argentine striker, who's been struggling with an ankle knock, is the squad's most talented player, capable of adding creativity to a solid side. He hasn't played from the start for one and a half months and he's been preserved in the league recently.
Even so, he has the quality to decide any game.
Roma haven't won any of their last seven fixtures, the longest streak since Mourinho's arrival, but have a clear identity and won't renounce it now: maximum defensive attention, extreme aggression on every ball, a filtering midfield and dangerous counter attacks.
"We won't travel to Budapest on holiday," Mourinho felt the need to specify.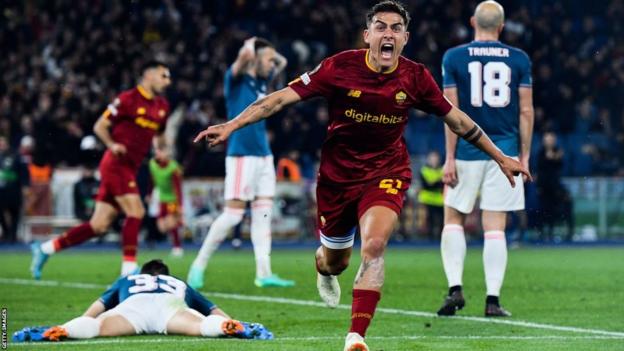 Roma don't play attractive football, but can definitely fight and suffer.
And Mourinho is to be judged on results, not his style of play. His side earned important wins when it came to it, at least in Europe, conceding one goal on home soil after the group stage.
Results weren't as satisfying in the league, though. Roma rank sixth, like last year, and would be seventh without Juventus' 10-point deduction. If they beat Spezia next weekend, they will end up with 66 points, exactly like last season.
This is surely not in line with their expectations; Roma have Serie A's third-highest payroll, behind only Juventus and Inter. The Giallorossi have lost 11 league games, five at home, and both derbies against Lazio.
Champions League qualification, the club's ultimate goal which would bring around 50m Euros, can still be clinched via a win against Sevilla. Mourinho has put all his cards on this moment.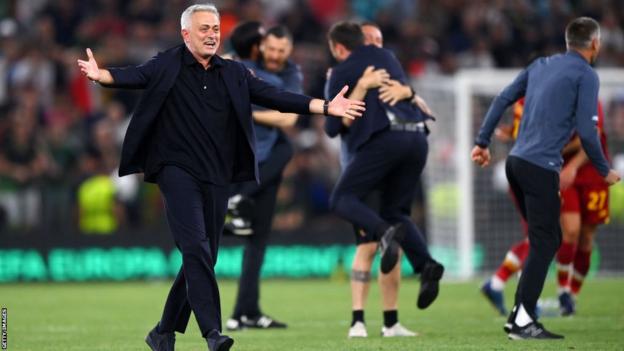 What does it mean for Roma?
The Friedkin family, Roma's Texan owners, have injected around 750m Euros in the project since their takeover in August 2020.
They have hired high-profile professionals such as Portuguese head of football operations Tiago Pinto, from Benfica, as well as Greek CEO and GM Lina Souloukou, from Olympiacos.
They have spent almost 100m Euros on players and hired important free agents like Dybala, Nemanja Matic and Georginio Wijnaldum, attracted by rich wages.
They also count on building a new, club-owned stadium in 2028. Mourinho's arrival two summers ago, persuaded with an £8m-per-year contract, is all part of the strategy.
But the club has already paid a 5m Euros fine to Uefa for breaching Financial Fair Play and its books will be under scrutiny until 2027.
Pinto himself said what's at stake: "The game against Sevilla is the most important of Roma's recent history."
Is this Mourinho's farewell?
Wednesday will also have a big impact on Mourinho's next steps.
"My future? I am focused on the final only. But with Roma and their fans, whatever happens, I will maintain a deep bond forever," he said.
These words surely terrorise many in the city. Fans might not see him again at the Stadio Olimpico; after receiving a trivial booking against Fiorentina last weekend, he will miss the final Serie A game against Spezia.
Knowing his taste for drama, has he chosen the Puskas Arena as a stage to wave everyone farewell?
This happened at the Santiago Bernabeu in 2010, straight after winning the Champions League final against Bayern Munich with Inter. Mourinho didn't even return to Italy, instead immediately joining Real Madrid.
Despite having signed a deal until 2024, Mourinho knows all too well that "contracts have a peculiar validity in football", and if a club like Paris-Saint Germain or Real Madrid knocked on Roma's door, they would let him go.
The focus now is on Budapest and then he will hold talks. He will want the club to guarantee a competitive squad for potential Champions League football, and club representatives will want him to stop criticising Roma.
"Reaching the Champions League with this squad would not only have been a miracle, it would have been like Jesus having a stroll at the Vatican," he said recently.
Is there room for a compromise? It's difficult to say, but it's the only way to build a common future. Otherwise Roma and their shaman will part ways.