Nigerians on social media have reacted after one of the young wives of the Alaafin of Oyo, Queen Damiola, who fled Lagos, days after she was kicked out of the place with nothing got funds to start life again.
This comes after controversial Instagram blogger, Gistlover, shared a screenshot chat of the queen thanking kind hearted Nigerians who came to her aid, by helping her with funds to get a decent accomdation days after the king reportedly dumped her for her friend kicking her out which requiring her to flee.
Taking to her social media, she appreciates Nigerians for their kind gesture;
See post below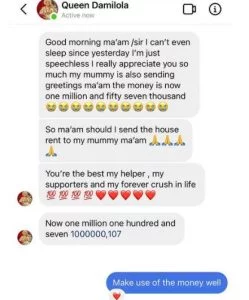 It is understood that, Queen Damilola revealed days after she fled the palace to Lagos that she has nowhere to sleep as she had no money on her. This led well-meaning social media user to rally around for her and gathering some funds whooping a total amount of 1.17million naira.
Some of the comments the photos generate;
@adaugou007 wrote; 'It's the HONESTY for me!!! God bless her. And everyone who contributed.'
@msmocrown wrote; 'She should use it wisely. With the current value of naira. Even 10million naira will vanish before you know it'
@tiff.any8401 wrote;'Be like say I go marry this man , park out'
@seundreams wrote; Make una sha cut soap for us oo, where una dey see this money
@kemisola__mi wrote;'So you no even get up to 1m for account normal and you be king wife…hiaan'
@shoogar.peng wrote; 'The only government approved Akproko page😁'
@curvygurl_tiana wrote; 'I have a strong feeling that if that man calls her back tomorrow to the palace, aunty go pack her things and go back. God bless GLB'
@anniesenhancebeauty wrote;'Your mother should go to the village and stay for now. 1 million is little or nothing in this economy. I advice you continue staying at your friend's place then invest the money into a business. Come to gbl we will patronize you.after paying rent what next? Let your mum go to the village for now because I dont want to believe you fell from the sky.'
Credit: NaijaNews.