Miami Grand Prix: Sergio Perez on pole & Max Verstappen ninth as red flag curtails qualifying
Red Bull's Sergio Perez took pole position for the Miami Grand Prix while team-mate and title rival Max Verstappen will start only ninth.
Verstappen made a mistake on his first run in the final session and when Ferrari's Charles Leclerc crashed there was no time to resume the session.
Aston Martin's Fernando Alonso will join Perez on the front row.
Ferrari's Carlos Sainz is third, with Kevin Magnussen scoring a sensational fourth for the US-based Haas team.
"That was a mistake of mine trying to put it to the limit and then having to abort the lap," said Verstappen.
"Then you rely on a bit of luck of course that there is not going to be a red flag. It can happen on a street circuit so I'm a bit upset with myself."
Elsewhere, Mercedes struggled. Lewis Hamilton was knocked out in the second session and will start down in 13th. He was compromised by the team sending him out late, which affected his ability to prepare his tyres effectively.
George Russell managed to sneak through into the top-10 shootout, where he secured sixth place behind the Alpine of Pierre Gasly.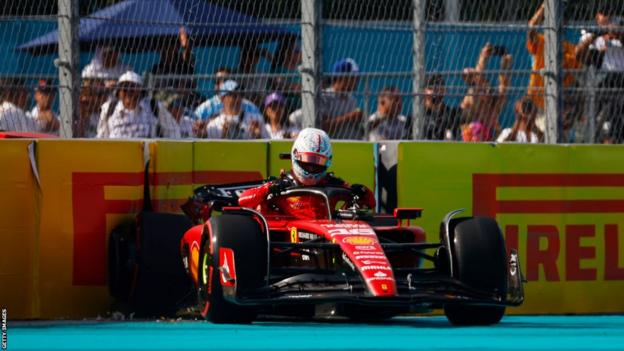 Both Verstappen and Leclerc were under pressure going into the final runs after making errors in the early part of the session.
Verstappen had run wide at Turns Six and Seven and Leclerc brushed the wall at Turn 16.
Both needed to deliver on their final runs but Leclerc wrecked the rest of the session for everyone else when, running early, he lost control through the fast Turn Six and spun on the entry to Turn Seven, backing his Ferrari into the wall.
It was Leclerc's second crash in two days at the same place after he also lost control a little later in the same sequence of corners in second practice on Friday. He will line up seventh.
The result is a huge bonus for Perez, who is six points behind Verstappen in a private championship battle between the two drivers for the dominant Red Bull team.
Perez had looked out of sorts for much of the weekend but he nailed an excellent lap on the first runs in the final session to put himself in the prime position going into the final runs.
The Mexican beat Alonso by 0.361secs as the veteran Spaniard continues his excellent start to the season.
Sainz was a further 0.147secs behind in his Ferrari.
Behind Leclerc, Alpine's Esteban Ocon, Verstappen and Alfa Romeo's Valtteri Bottas completed the top 10.
What did the top three say?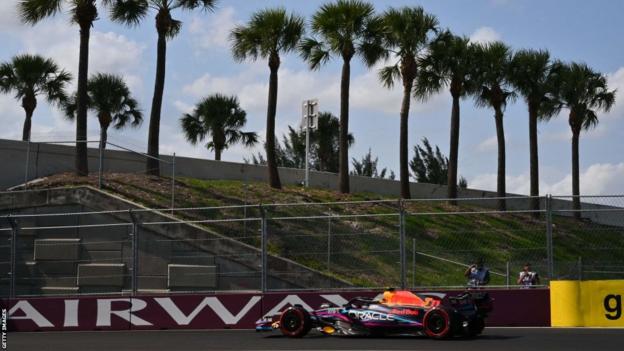 Perez was cheered loudly by the crowd at Hard Rock Stadium in this city with a large Latino population, who saw three Spanish-speaking drivers in the first three positions, and thanked them during his interview after the session.
"It has been my worst weekend until qualifying really," he said. "I just couldn't figure out how to [recover] all those tenths I was missing to the Max and the Ferraris.
"I was just resetting everything and we did a small change into qualifying and everything came alive. We were playing with the tools and everything came together.
"I was just struggling for balance, confidence, this Tarmac is very sensitive to temperature."
Alonso said: "It was a good qualifying. Final practice was a little bit messy for us. We tried a few set-ups and they did not work but we put the car back in a known place and it came alive.
"The car was so enjoyable to drive. You go close to the walls in Turns 11 to 16 and you need to have that confidence to go to the limit and I had that confidence and am very pleased."
Sainz added: "P3 was where where were targeting to be but we could have been better. It is a big unknown how our car is going to compete in the heat, but if we can push ahead that could bring us to the podium and be a great result.
"I think the Red Bull is very quick but with everyone else it is going to be a good fight with Fernando, the Mercedes, I think it is going to be an exciting race."
McLaren struggles continue
Mercedes were not the only big-name team struggling. McLaren had a dire session, with Lando Norris and Oscar Piastri knocked out early on and lining up 16th and 19th.
The result underlined the difficult position the team find themselves in at the start of this season and was an illustration of why they are restructuring the team.
This weekend, it has emerged that they have brought back former IndyCar champion Gil de Ferran, their sporting director from 2018-21, in a consultancy role, to help them identify how they can get themselves back on track.
British-born Thai Alex Albon had a good session for Williams, starting 11th. And after an error-strewn weekend in Baku, Alpha Tauri rookie Nyck de Vries out-qualified team-mate Yuki Tsunoda for the first time this season and lines up 15th.